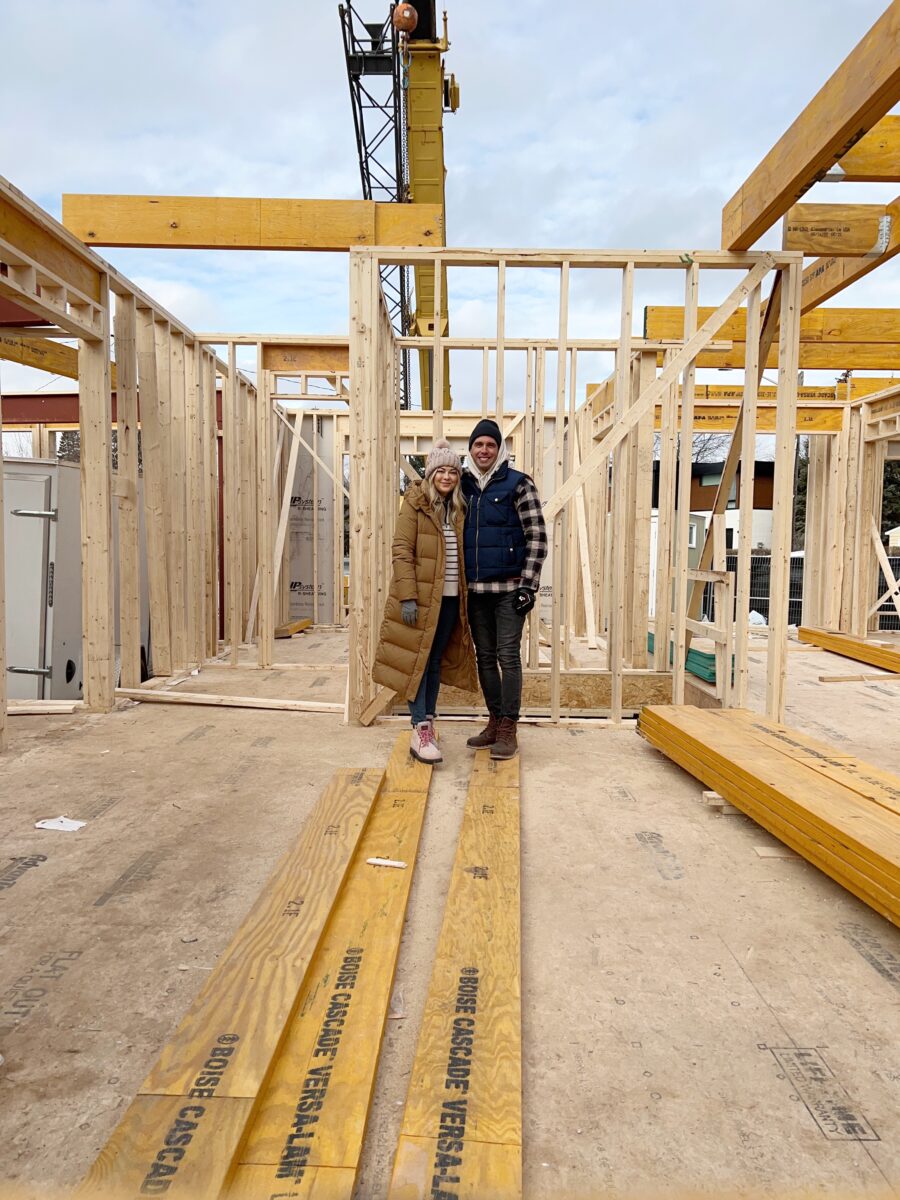 It has taken forever to craft this post but I am so excited to finally share a house update with all of you.
I won't say getting to this point has been an easy feat. For those who have followed along for years, you may remember our interesting story. We sold our new construction home for an older bungalow we had intended to tear down … only to find out the house was in a flood zone. With an option to move in or become homeless, we moved in, speedily fixed things up and listed the house to sell within 6 months. You can find a little living room tour here!
And after months of searching, we found our current lot! Part of our wish list included a livable house on the property so we could move in, save and really make sure we loved the area before settling down roots. We tackled some fun projects in the interim like this kitchen makeover and sprucing up our dining room.
We began working with our architect in spring 2020, submitted our final drawings for permits in November 2020 and got word mid-August 2021 that we were green light to demo and build! As you can see in the pic above (taken a week ago) we've now got a fully framed first floor and we'll be moving onto the second floor shortly! We're standing in a corner of our kitchen with the servery hallway to the left of me.
Thanks to those of you who submitted questions about our project. I did my best to tackle the most common queries but if I've missed something specific, feel free to let me know!
What inspired your house design?
Our project is close to Lake Ontario and many homes in our area reflect a more traditional aesthetic. We were really drawn to the lines and shapes of Dutch Colonial builds and often looked to Cape Cod-inspired homes as a jumping-off point for design inspiration. This is definitely something reflected in our final plans. The house will be outfitted in cedar shakes which really give it a coastal nod. Here are some inspo images we took to our architect during the design phase: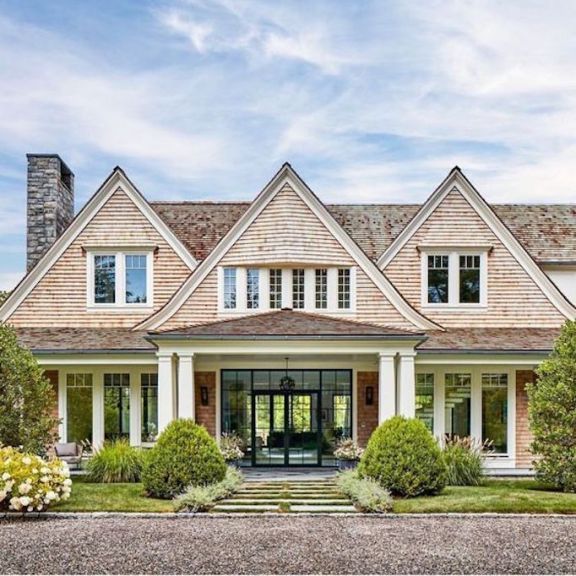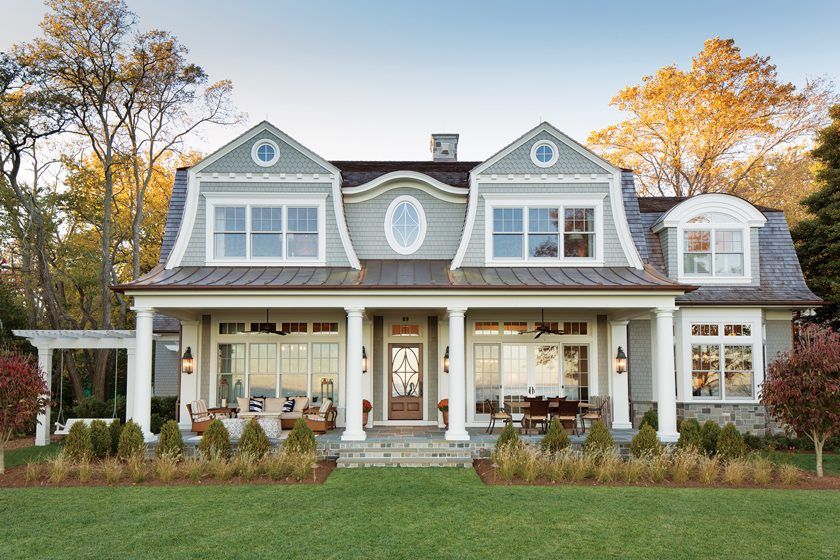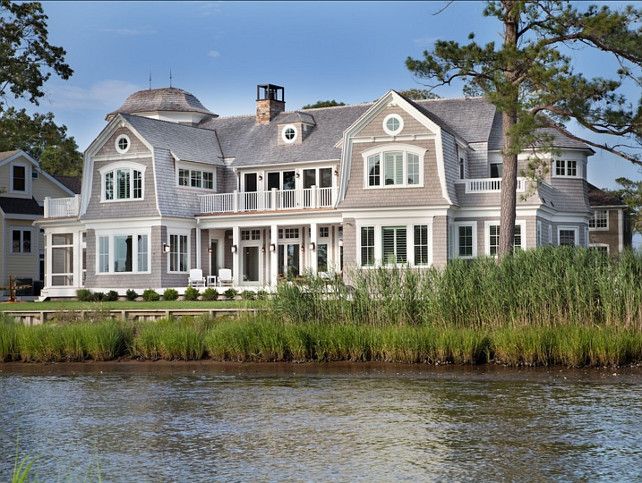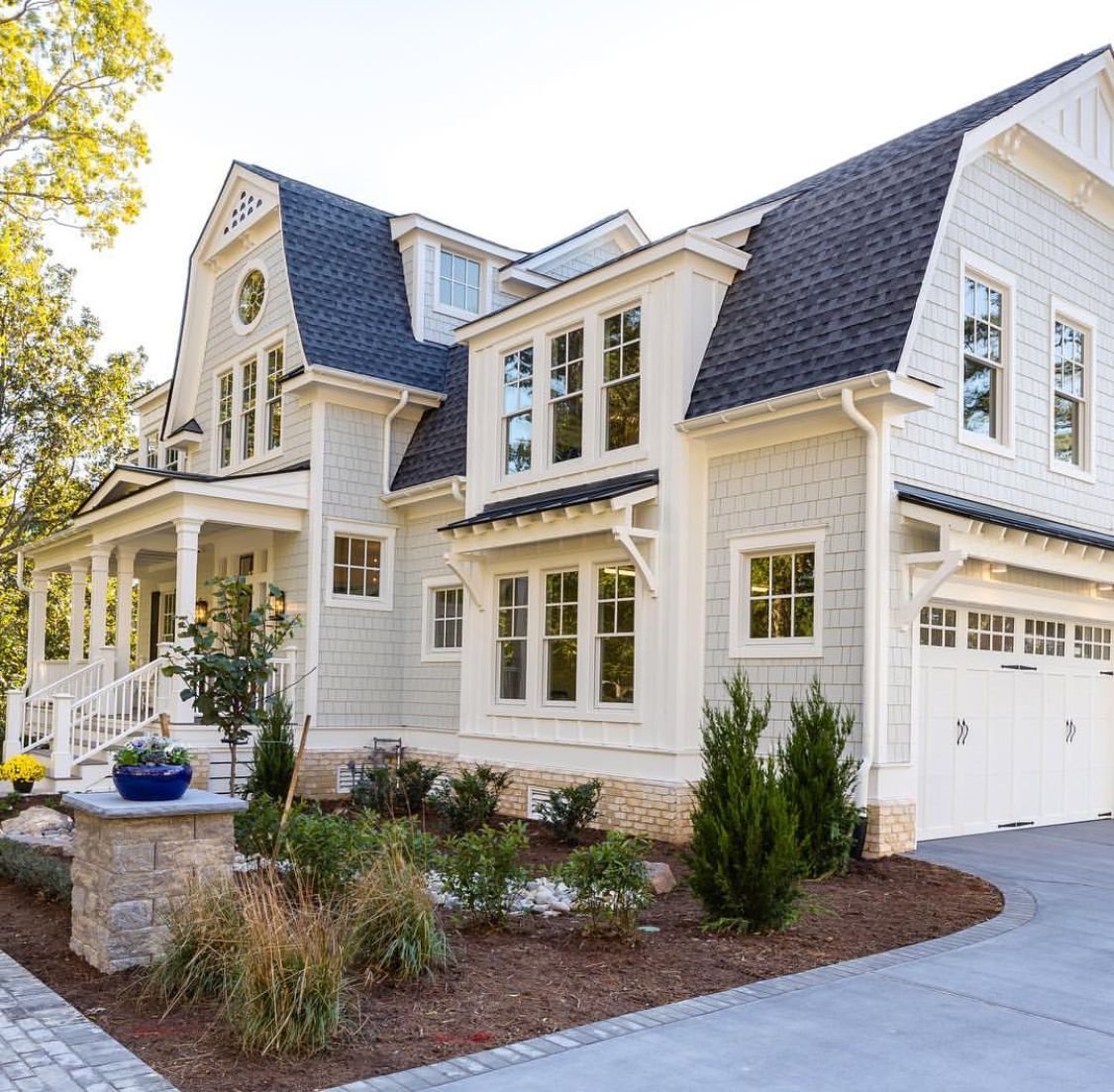 You can find more inspiration for our house by following along with me on Pinterest.
Will you be sharing your floor plan?
We are editing our original plans now that the build is coming to life so anything we would be able to share from our architect is officially outdated. I'll be sharing behind-the-scenes content on each floor as the project takes shape on Instagram. We have talked about sharing the plans at a later date so stay tuned.
What is the investment in terms of time and cost?
This is such a difficult question to answer as there are SO many variables to consider. For example, a modern build can be significantly more expensive than a traditional build due to the difference in materials required. Window estimates can range from $40,000 to $150,000 for a home depending on the material you choose. I understand this is a frustrating answer to receive – I felt the same way when researching the cost to build. The best advice I can give is to either work with a design-build firm that can map out a project to fit within your budget or take your initial plans from an architect to an estimator/contractor for an idea on build costs.
I mentioned this in a recent Q&A on Instagram, but we waited until our plans were 95% complete to start sharing the project with builders/contractors for an estimate only to discover that many elements of our home (ex. external materials, window design, footprint, etc) could have been tweaked to lower our build costs. While some edits could be made, the bulk of the decisions were too late to edit (ex. HVAC) and we had to forge ahead. I should clarify we aren't talking about a significant reduction in the budget (say, less than 5-8%) but it was a learning lesson.
If you're local to the GTA, this video can be quite helpful in determining what build costs could look like for your project.
As for the investment in time, this is also subject to each homeowner. I found the most labor-intensive projects were the interviewing of architects and builders, working through the design plans and now, weekly site visits. We choose to visit local suppliers for roofing options, siding options, paint color selections which can also take up time rather than outsource this to our builder or designer. And then there are the weekly or daily site visits. At this point in our project, I would say we are committing at least 7-10 hours a week to the project.
Why did you hire an interior designer?
I'll admit, I never intended to hire a designer for this project. While I have a vision for the overall look and feel of the house, bridging a Pinterest board collage into reality truly was a humbling experience for me. The process of selecting windows or even choosing a door handle finish sent me spiralling after work most nights and I got to the point where I knew I needed help if I wanted to maintain my sanity. We've engaged Rose + Funk to help us design key areas of the home such as the kitchen, living room, primary bedroom and bath as well as other services such as electrical plans and more. 
What local architects or interior designers would you recommend?
While this is not an exhaustive list, local architects that we had met with or admired included Keeren Design, Narratif and John Wilmott. Su Casa, a BC-based firm, is also producing some beautiful work but we were hesitant on working with someone out of town given our municipal regulations. I would recommend meeting with 3 firms to get an idea of working relationships, their creative design process and communication style.
As for interior designers, the list could be endless. I'm quite traditional in my approach so local designers I admire are Hageman Homes, Robyn Madeline Interiors, Olly + Em, Rose & Funk, Jenny Martin Design, Stephanie Jean Design and the list could go on and on. Similar to the note above regarding architects, I would encourage you to meet with a few shortlisted options and observe their communication style, get a handle on their approach to client work and ensure their portfolio work is a reflection of the style you want to emulate in your project.
Are you using a builder?
Yes. Yes. Yes. While we're both savvy renovators, building a house is no joke. We wanted to make sure that the project was guided by an expert as there was too much of an investment at stake. We are constantly surprised by small steps (ex. inspector visits) or behind-the-scenes work that our builder assumes and without him, we would have been totally lost! I've also heard of far too many horror stories of projects gone wrong with costly price tags and we were not willing to risk that or cut corners for this project.
How did you decide on a builder?
This may have been one of the most challenging steps in this process. I have to thank a colleague of mine at work for sharing a robust proposal deck she put together for her own build communicating wish lists, mood boards and other details we valued in the project. Adam and I had a list of 5 builders in the area and met with all of them 1:1. For many, this involved touring a current or recently completed project and speaking with homeowners of projects that could speak to the quality of the build.
We're excited to be working with Rob from Prasada Homes on our project and what we valued about our interaction with Rob was his communication style, transparency on budget, experience and enthusiasm for our project.
What has been the hardest part of this process so far?
Anyone who knows me knows I'm not exactly a patient person and so much of the build process hinges on patience. Whether it was design drawing revisions, permit delays with the city or even supply chain issues with COVID, this has truly been a lesson in patience for me. I know it will be worth it in the end but it's a constant reminder!
How does one even begin a build?
The path to building can look different for so many people. Speaking from our personal experience, we wanted to purchase a habitable home in an area where we wanted to build. Not only did this offer us the chance to save but we really fell in love with the area, saw how the sun hit the lot at different points in the day, sketched out the best use of our space and more. We had a general idea on what size house we wanted to build and used that as a starting point to seek out lots that would accommodate this size home. We worked with our real estate agent until we finally found our dream lot. We lived in the house for 18 months and then engaged our architect to begin drafting up plans for the house. The design process took about 6 months and once finalized, we submitted our plans to the city for our demo and building permits.
When will you move in?
We are targeting a move-in date of summer 2022.
What floors are you choosing?
We haven't made any decisions around flooring at this point. That being said, I'm definitely leaning towards a light oak hardwood floor throughout (maybe a herringbone pattern somewhere) and there will be a moment of gray and white checkerboard marble somewhere in the house. I'm unsure of whether this will be in the pantry, mudroom or laundry room.
Is there anything unique to the house?
I wouldn't say there is anything particularly unique to this project. Some wish list items for us were a walk-in pantry, second floor laundry, a nook area or breakfast bar and a kitchen that overlooked the living room area. Adam was also keen on having an oversized garage.
What colour windows did you order?
I was surprised at how many individuals were curious about this! We chose white windows for our house. I have always gravitated towards a traditional style and white was the obvious choice. For reference, our exterior will be painted in Classic Gray by Benjamin Moore. Our trim colour is still TBD but we felt this would be a pleasant contrast to the white windows.
Plan vs. Reality: What changed?
Lot shape: We have a pie-shaped lot which was something I struggled with from day one. This meant a rectangular-shaped house would have impacted the use of our backyard and as a result, we needed to explore an irregular-shaped foundation to make the best use of our space. I was super disappointed when we realized this was the case. It also made for some tricky design work in hallways on the second floor but overall, I'm so happy with how things turned out. But would I buy another pie-shaped lot again? Probably not haha but I think we did the best we could given our lot size.
Budget: Nobody likes the B word (budget) but for our first build, it was a solid reality check throughout the process. We didn't anticipate a 20-30% rise in building materials for this project (thanks COVID) and the future continues to remain unknown. As a result, we have a potential list of projects we can finish at a later date. Many of these will be a game-time call depending on how lumber or other materials are estimated. The budget was also a determining factor in the final house size and knowing when and where to draw the line on nice-to-have features. I would have loved bigger bedrooms, larger closets or a massive wrap-around porch but it just wasn't in the cards for us. 
Estimating: I've shared this on stories but architects rarely provide an estimate on cost to build and unless you're working with a design-build firm, you don't typically receive accurate estimates until your plans have been nearly finalized and/or stamped by consultants. I was paralyzed throughout the design process of working within a perceived cost-per-square-foot budget and as a result, cut back on the size of spaces within the home. This is a HUGE regret of mine and something I will definitely be mindful of if we ever do this again. 
2D to 3D: We're just a few weeks into framing and I have quickly learned I am not a 2D learner. Our architect provided a visual rendering of the front exterior of our house but if I were to ever do this again, I would be keen to invest in a full 3D tour of the home to get an idea of spaces, shapes and layouts.
What has been your biggest takeaway?
This project seemed like a daunting task just a few short years ago and to think that we're over halfway through, I can say it truly has been a wild and fun ride. I was terrified I would be bombarded with difficult decisions, red tape and more but with the right partners on your side, the experience has been fun. I'm excited to see what's in store next!