Black Friday Deals & Steals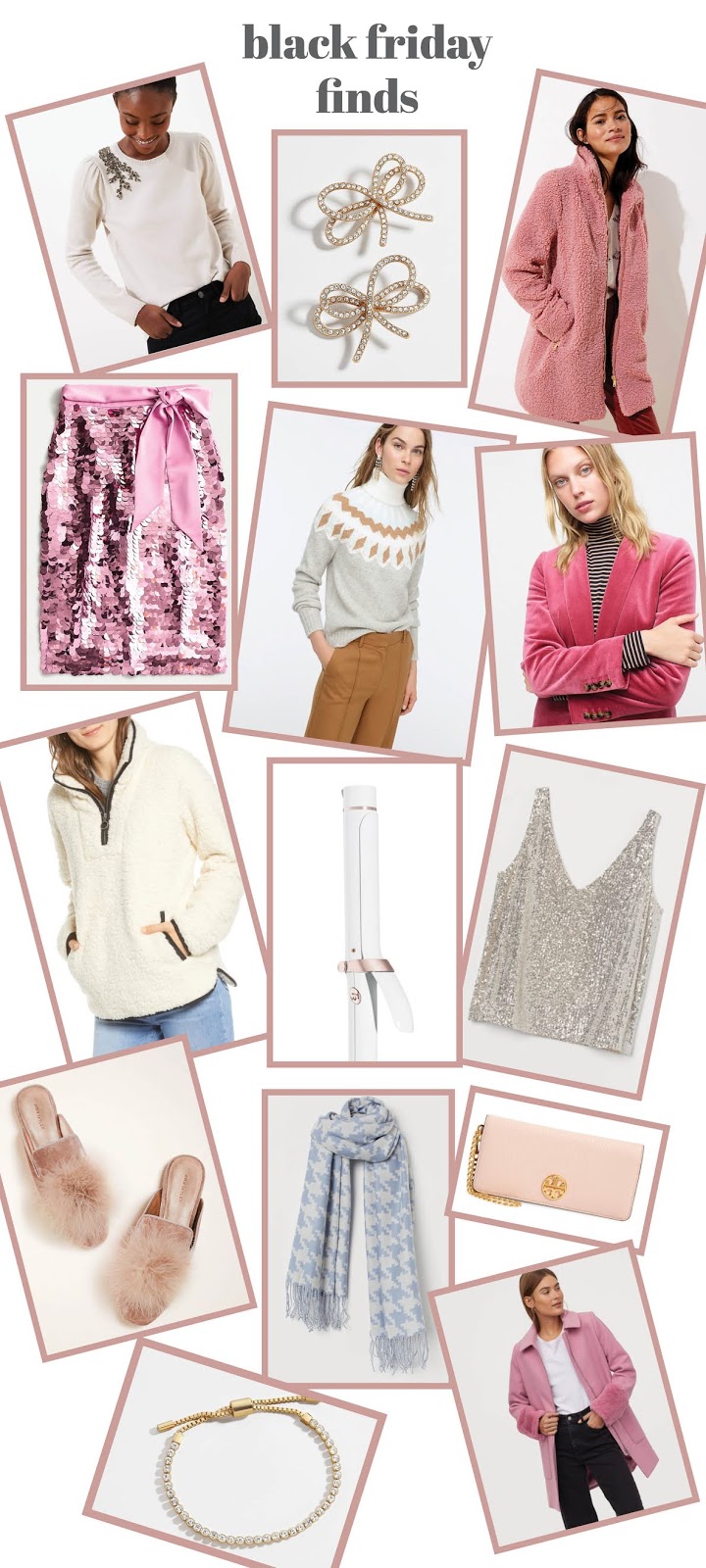 When you've been eagerly waiting for the day to come and it's finally here! With a full work day ahead, I've pre-planned my purchases and what I need to snag before my must-have items sell out. I've mapped out my shopping list above from
fun footwear
to
chic outerwear
and more. I've already snagged this
sequin tank
and
pencil skirt
because… sequins and who can say no? With so many showers, anniversary events and parties coming up – they were such a fun choice.
And now that the weather is officially cold 24/7, fun winter accessories
like this scarf
or
pink coat
are a must! I've been loving anything and everything plaid this season and
this jacket
is another option I'm considering for the season. I love that it can be paired with neutrals, shades of pink and burgundy for fun accent colours.
!function(w,i,d,g,e,t){d.getElementById(i)||(element=d.createElement(t),element.id=i,element.src="https://widgets.rewardstyle.com"+e,d.body.appendChild(element)),w.hasOwnProperty(g)===!0&&"complete"===d.readyState&&w[g].init()}(window,"shopthepost-script",document,"__stp","/js/shopthepost.js","script")

JavaScript is currently disabled in this browser. Reactivate it to view this content.
H&M
Finds – 30% off Everything
!function(w,i,d,g,e,t){d.getElementById(i)||(element=d.createElement(t),element.id=i,element.src="https://widgets.rewardstyle.com"+e,d.body.appendChild(element)),w.hasOwnProperty(g)===!0&&"complete"===d.readyState&&w[g].init()}(window,"shopthepost-script",document,"__stp","/js/shopthepost.js","script")

JavaScript is currently disabled in this browser. Reactivate it to view this content.
!function(w,i,d,g,e,t){d.getElementById(i)||(element=d.createElement(t),element.id=i,element.src="https://widgets.rewardstyle.com"+e,d.body.appendChild(element)),w.hasOwnProperty(g)===!0&&"complete"===d.readyState&&w[g].init()}(window,"shopthepost-script",document,"__stp","/js/shopthepost.js","script")

JavaScript is currently disabled in this browser. Reactivate it to view this content.
J. Crew
Finds – 30% Off with code "WHYWAIT"
!function(w,i,d,g,e,t){d.getElementById(i)||(element=d.createElement(t),element.id=i,element.src="https://widgets.rewardstyle.com"+e,d.body.appendChild(element)),w.hasOwnProperty(g)===!0&&"complete"===d.readyState&&w[g].init()}(window,"shopthepost-script",document,"__stp","/js/shopthepost.js","script")

JavaScript is currently disabled in this browser. Reactivate it to view this content.
LOFT
Finds – 50% Off with code "INDULGE"
!function(w,i,d,g,e,t){d.getElementById(i)||(element=d.createElement(t),element.id=i,element.src="https://widgets.rewardstyle.com"+e,d.body.appendChild(element)),w.hasOwnProperty(g)===!0&&"complete"===d.readyState&&w[g].init()}(window,"shopthepost-script",document,"__stp","/js/shopthepost.js","script")

JavaScript is currently disabled in this browser. Reactivate it to view this content.
!function(w,i,d,g,e,t){d.getElementById(i)||(element=d.createElement(t),element.id=i,element.src="https://widgets.rewardstyle.com"+e,d.body.appendChild(element)),w.hasOwnProperty(g)===!0&&"complete"===d.readyState&&w[g].init()}(window,"shopthepost-script",document,"__stp","/js/shopthepost.js","script")

JavaScript is currently disabled in this browser. Reactivate it to view this content.
Shop the post