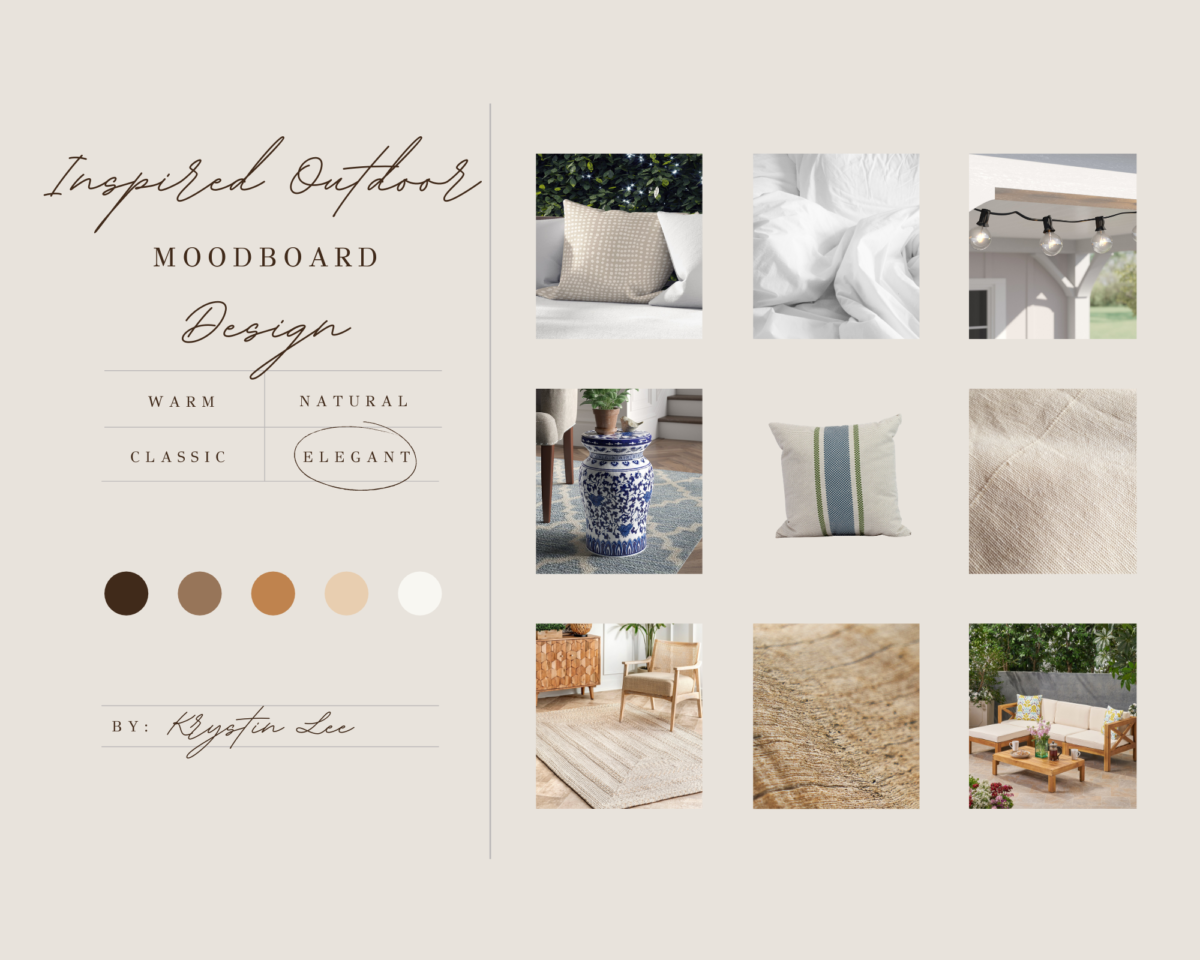 I'm teaming up with Wayfair to bring you The Summer Edit, including a Q & A with me, home design inspiration and advice, and my product picks for the season. I have long been a fan of Wayfair and as we look to renovate our bungalow, we've been using the app to select odds and ends for spaces like our living room, bedroom and outdoor patio.
The mood board above summarizes the look and feel we're hoping to evoke in our yard. The backyard space is so lush and private so I think it'll make for the perfect escape. We recently spotted an apple and pear tree blooming and I cannot wait to see what else is in store!
The Holiday Aisle Outdoor 50-bulb Globe String Lights | Alcott Hill Houghtaling Decorative Garden Stool |Barcomb Outdoor 5-piece Sectional Seating Group | Breakwater Bay Catharine Ivory Indoor/outdoor Area Rug |Chavira Outdoor Square Pillow Cover | Corrigan Studio Dots Abstract Beige Indoor/outdoor Pillow
The Wayfair Summer Edit Q & A with Krystin of KrystinLee.com
Wayfair: Which area of your home are you most focused on updating or sprucing up for the summer season and why?
Krystin: We just moved into a home that had been abandoned for 4 years with no hydro, water or gas. Safe to assume the entire home is what we're focused on at this point haha! But in all seriousness, the living room is often the first order of business for me as the open concept means it's the first space friends or family see when they visit.
Wayfair: Which color palettes are speaking to you this season?
Krystin: I am forever influenced by coastal hues. Blue, white, beige tones and most recently, seafoam green are colours that really speak to me in the home. I love pairing this with natural fabrics such as linen, jute and cotton.
Wayfair: Are there any home design trends that you are really loving right now?
Krystin: I'll always lean towards a traditionalist home so weaving elements into modern spaces is a strategic balance made possible with antique finds, stripes, block prints and classic art are go-to's for me.
Wayfair: Which activities are you most looking forward to this summer?
Krystin: Not only are we renovating our home but our family cottage has been gutted from top to bottom. I haven't seen the final 'after' product so escaping the city for cottage living and enjoying a sunset on the dock is top of my list!
Summer Highlight: Dreamy Vacation-Worthy Bathrooms
Image Credit: Wayfair
Speaking of cottage renovations, we're still mapping out what the new bathroom space will look like and creating a spa-like atmosphere is just the escape that space needs. For context, there could be up to 12 of us at the cottage at once with only 1.5 bathrooms to share so soaking up those moments alone needs to count haha!
Shop clawfoot tubs, bathroom tile, vanities (and double vanities!) and more over at Wayfair!
Image Credit: Wayfair
Wayfair Professional recently launched a Dream Classroom Giveaway contest (entries were accepted March 30, 2021 – April 13, 2021) to show appreciation for educators everywhere who have done so much for students during this year of uncertainty. One lucky educator will win a fully furnished, expertly curated classroom their students will be excited to return to. The winner will be announced in August, so stay tuned to see the lucky educator's dream classroom transformation. Read about last year's winners and see their exciting new classrooms here.
Check out classroom furniture and equipment from Wayfair:
Classroom Chair/Desk Combos | Whiteboards | Bulletin Boards | Early Education Kids Sofas and Group Seating | Chalkboards | Podiums & Lecterns | Cubbies | Lockers | Folding Tables | Folding Chairs