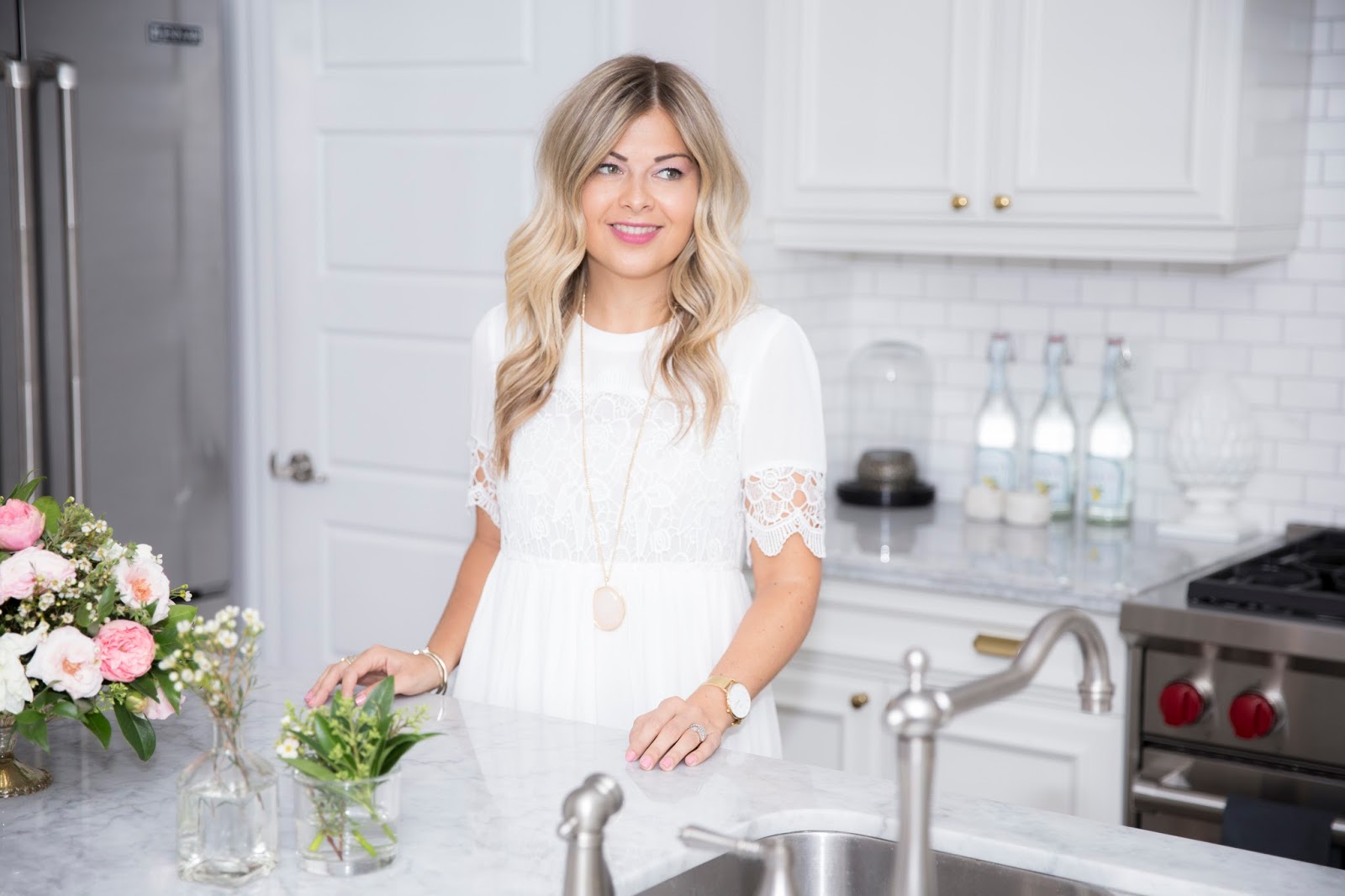 If you're anything like me, you love the
idea of entertaining and dream up great ideas in your head. But then it comes
time to actually invite friends, or dream up a menu and overwhelming feelings
of panic all too quickly come to mind. Too often, I'll either nix the idea or
chicken out (no pun intended!) by doing a takeout night in at our place with
friends. Sure, the company is enjoyable, but I certainly wouldn't be opposed to
tuning up my hosting 101 skills.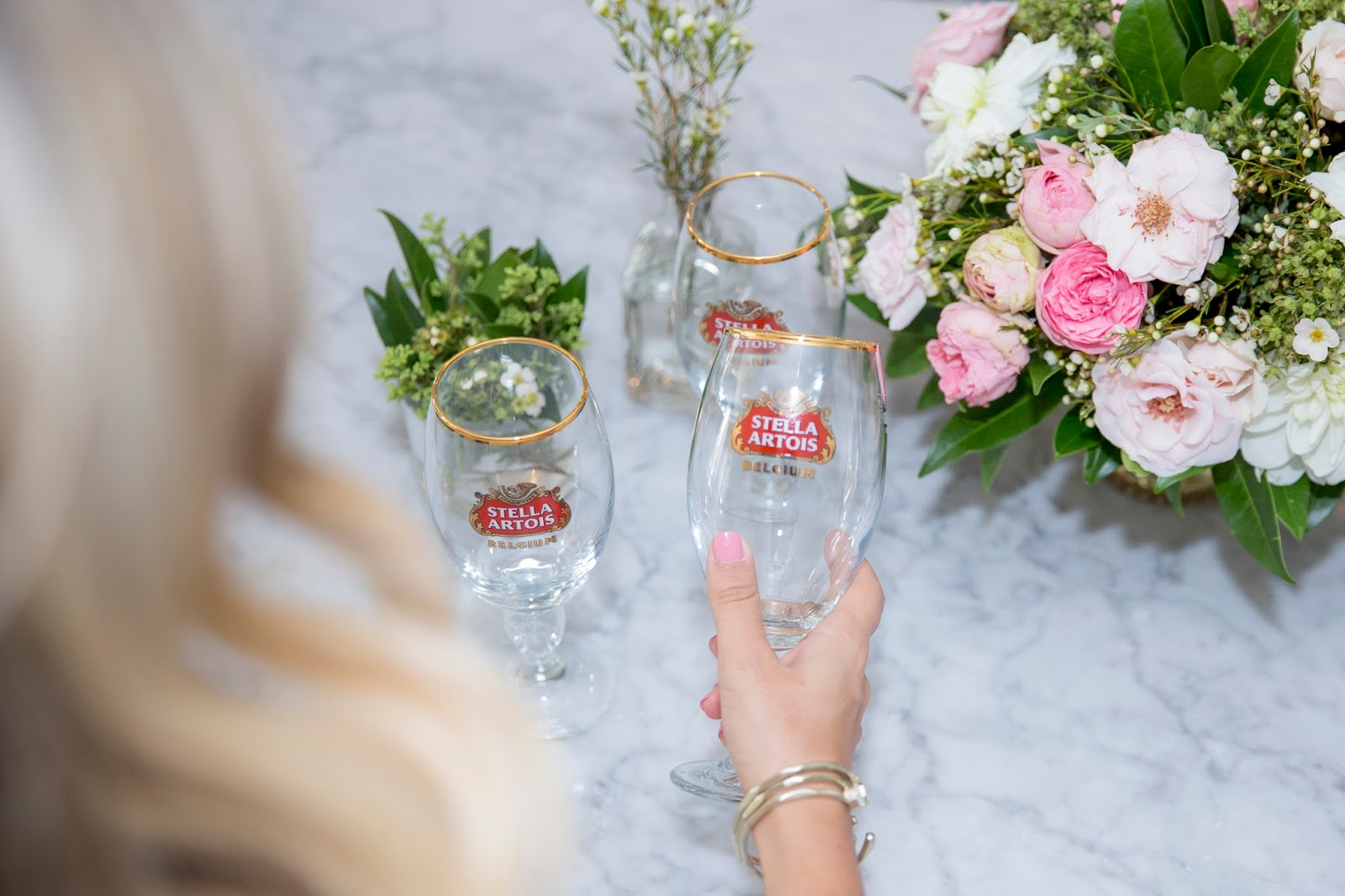 Stella Artois recently invited me to Montreal for a 101 on hosting and the opportunity to view their
Le Savoir event
. A coveted event that happens globally, it was put on in coordination with the crew from 45 DEGREES, the Global events company from Cirque du Soleil – and it did not disappoint. Over a hundred guests were invited to explore an incredible multi-sensorial space with edible elements, layers of scents, textures and a theatrical display to boot. Our challenge? How could we take this inspiration home with us and recreate it in our own way? We were up for the challenge!
My mother – ever the perfect hostess – is always throwing dinner parties at her house (that woman whips up a turkey meal fit for a King for 20 with her eyes closed) and it was the perfect opportunity to repay the favour. So we had a party of 8 including our immediate family.
One of my favourite elements of the
Le Savoir dinner
was the greenhouse setting. With finicky weather, we decided to organize our dinner party in doors but enlisted the help of my girlfriend
Ashley from Flowerly
to create an enchanting atmosphere. With florals hanging from the chandelier and garland runner for the table, we really did bring the outside, inside. We also incorporated the Stella Artois Chalice into our décor by adding tea lights for some mood lighting come dusk. In an effort to personalize place settings for guests, we hand-stamped custom name cards affixed to a rose and attached them to linen napkins. Lastly, the family style set up at the Le Savoir dinner was a favourite, so we wrapped 8 guests around our harvest table for a more intimate setting.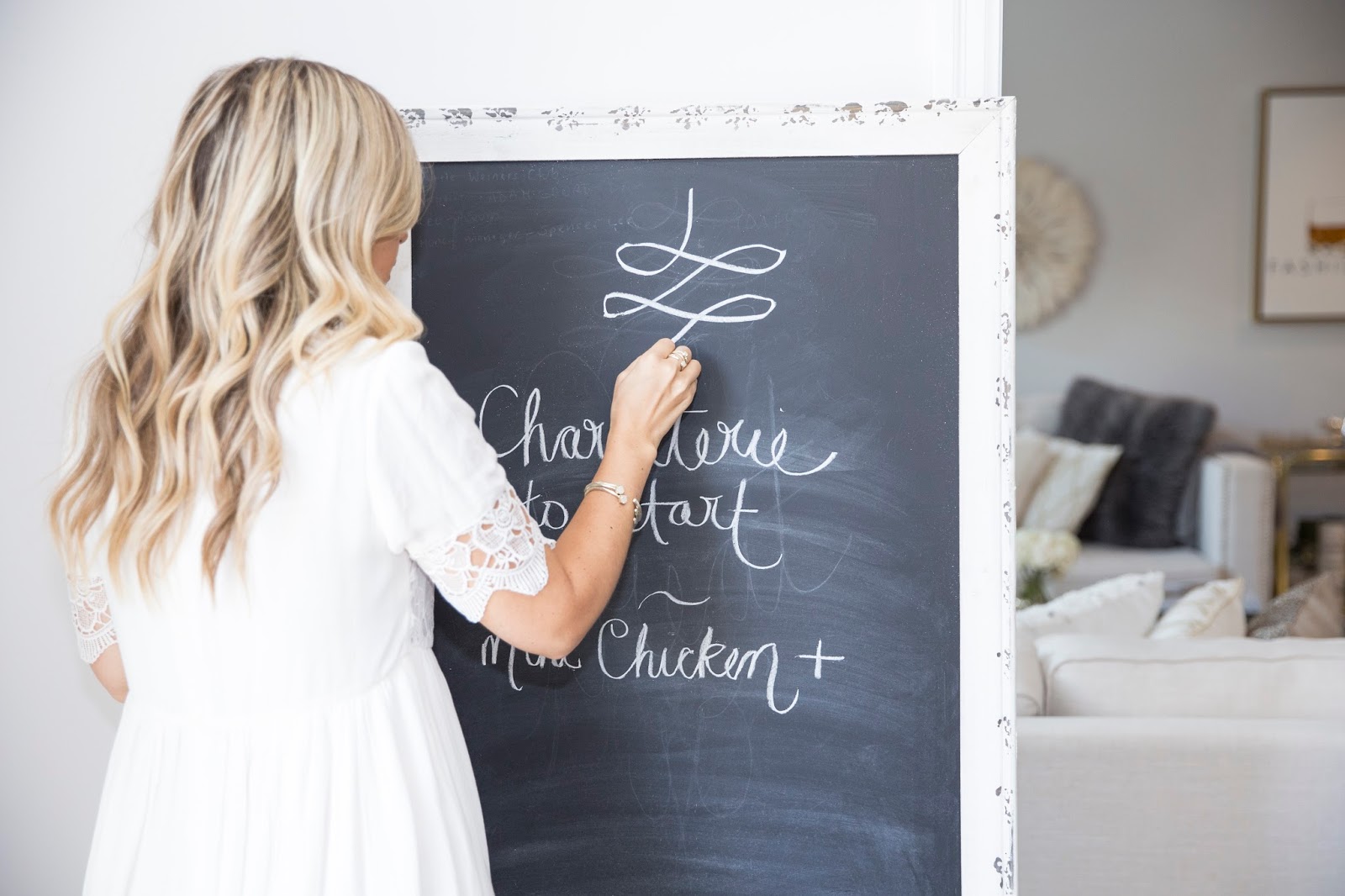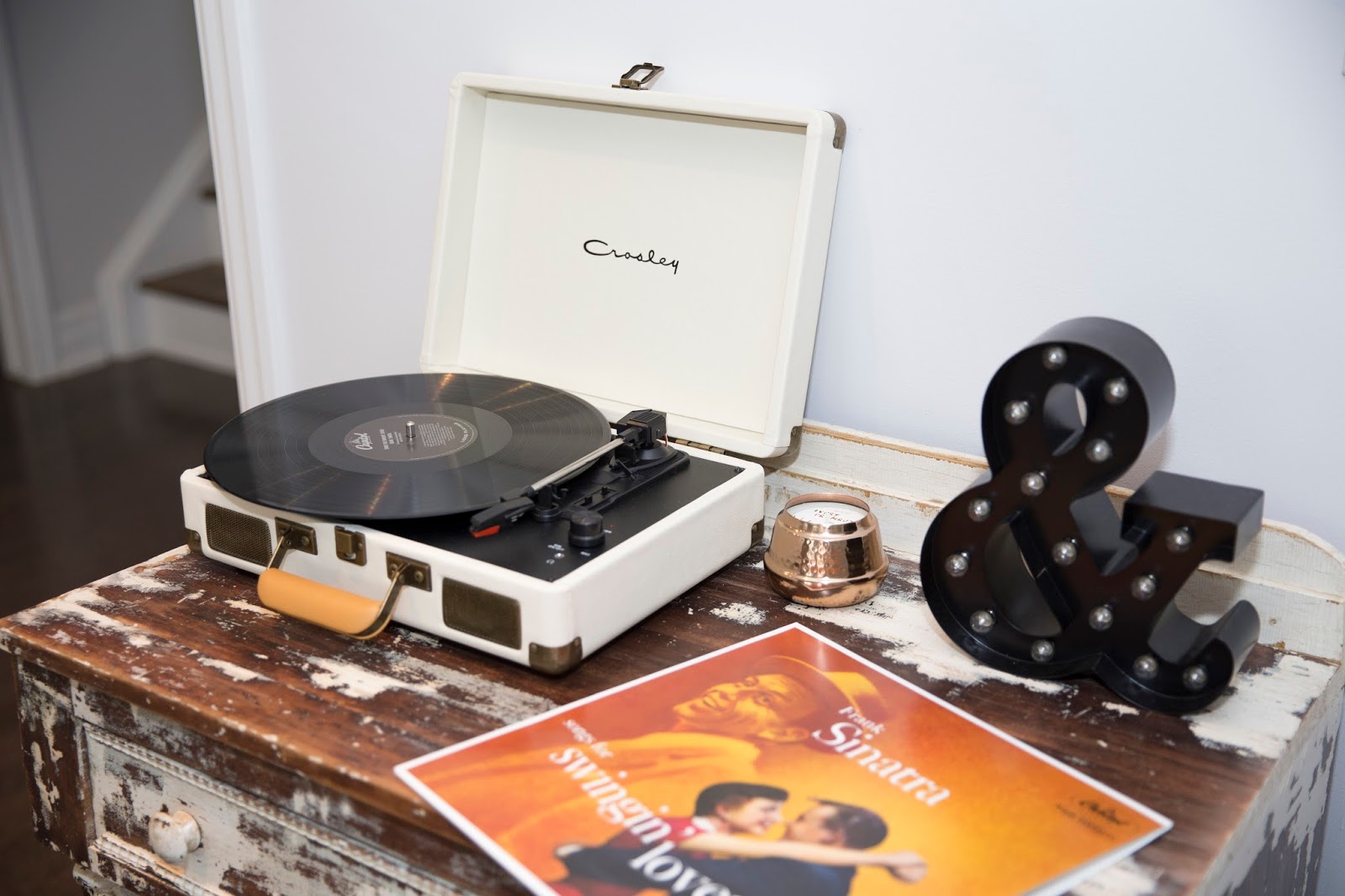 Adding to the mood, we played one our
favourites – Frank Sinatra – on the record player as guests mixed and mingled
from the patio to the dinner table.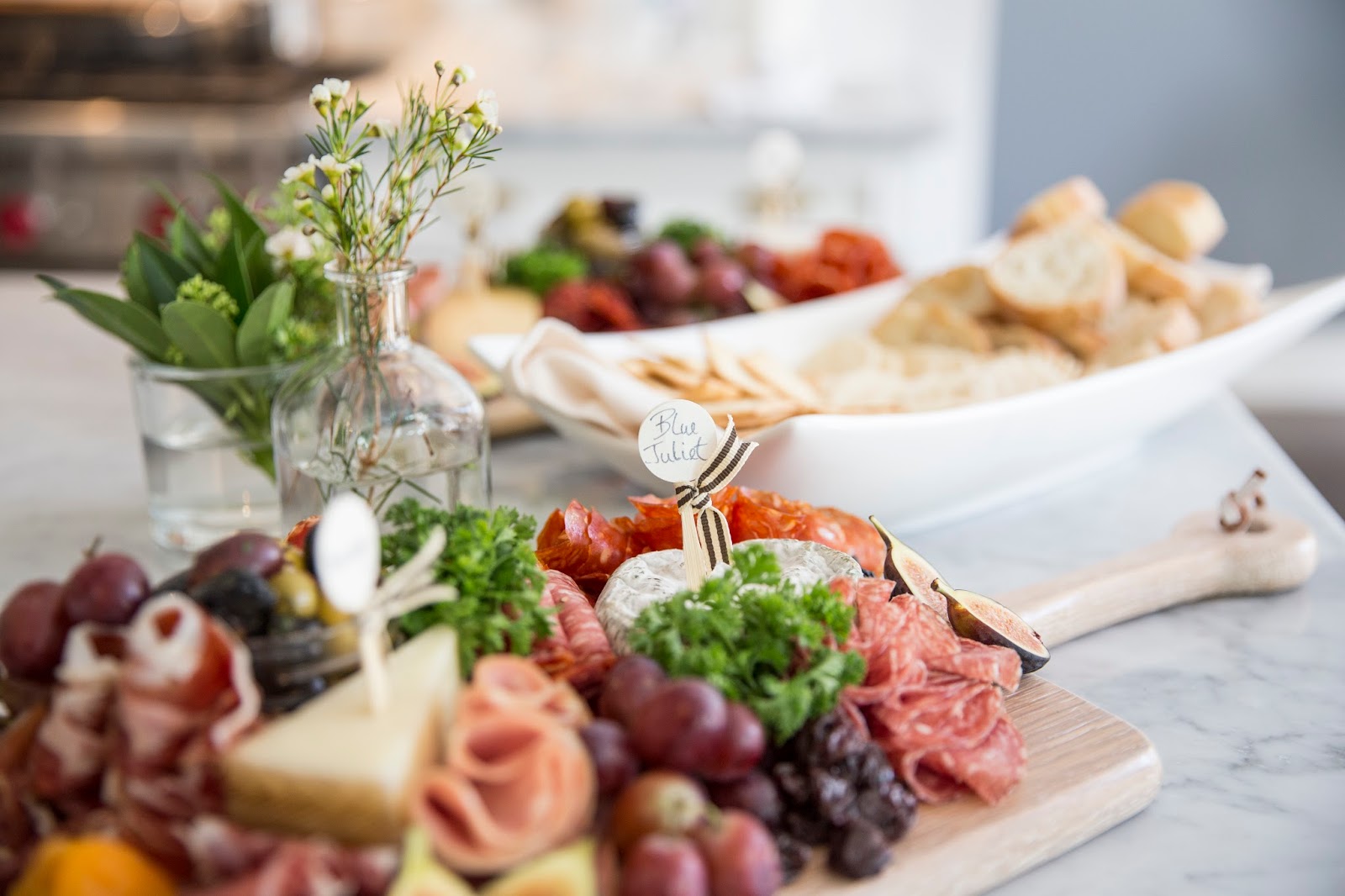 Now I would be completely fibbing if I said I casually pulled off a 3 course dinner for 8 without breaking a sweat so when it came time to dream up a menu for this experience, I went to a local favourite:
Noel from Buffo's
to help with the occasion.
Knowing that we were interested in pairing Stella Artois with the meal from start to finish (even dessert), we had to be sure the meals were balanced and perfect for pairing. At the same time, we wanted the food to be approachable and not super complicated.
The finished result? Grandiose charcuterie boards to start with figs, Ontario cheese, crisps, olives and cured meats and more. This was used to lure guests to the table and boy oh boy did it ever. Our first passed appetizer was 'Mini' Chicken and Waffles served over an arugula salad with crème fraiche topping. Dead.
For mains, we dreamed up a sixteen-spice chicken with sweet potato mash and root vegetable medley. And to finish, panna cotta served in mason jars with a nutmeg brittle crisp and fresh blueberries.
What shocked me the most is that even with some self-professed wine drinkers, our guests were blown away at how well Stella Artois paired with the meals. From start to finish the notes of the beer worked alongside the arugula salad, spiced chicken and brittle in the dessert.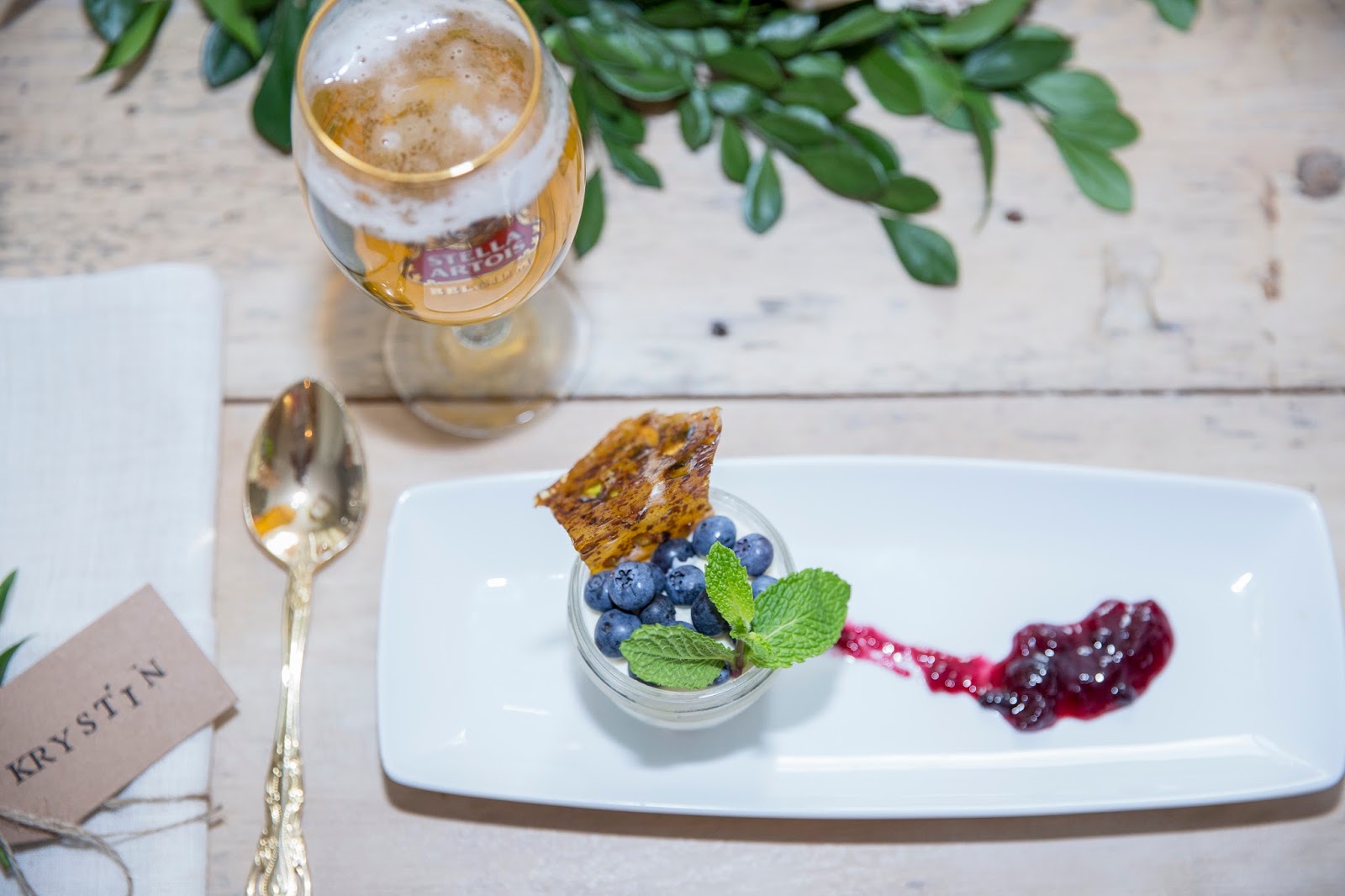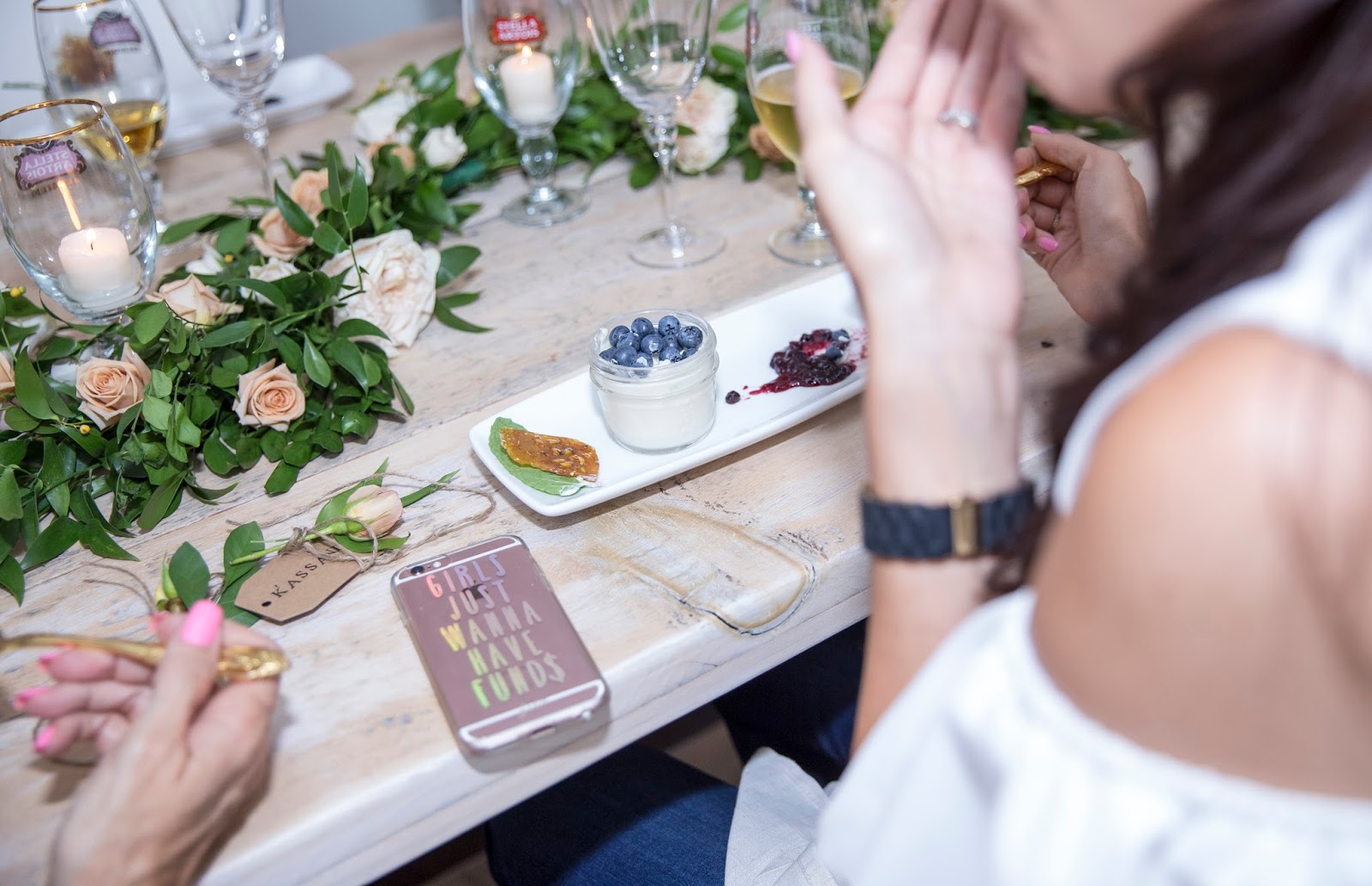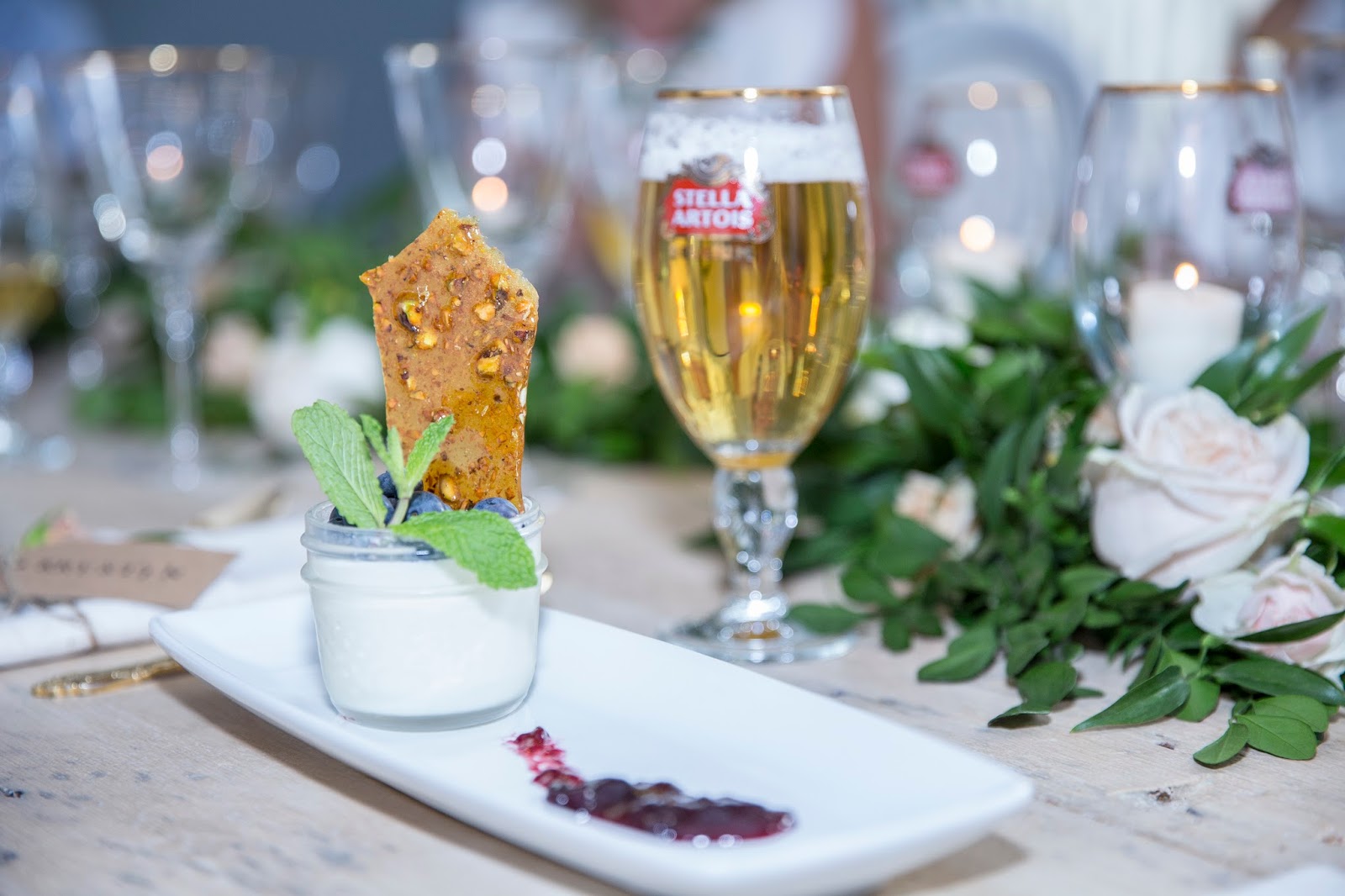 As a takeaway, guests left with their personal nametag, fresh flowers and their own Stella Artois Chalice to inspire their next dinner party. These were some of the tips from the
Hosting 101 session
I personally took away. I loved discussions around mood music and considering setting the tone pre and post event, considering the guests you've invited and how to create memorable takeaway experience for all – be it a leftovers packed up to go or a sweet treat for guests before they head out. I must say, we set the bar quite high for our next night in but thanks to the assistance of the Hosting 101class and enlisting great help (
Boffo's
and
Flowerly
), my anxiety has certainly subsided.