Foyer Makeover with York Wallcoverings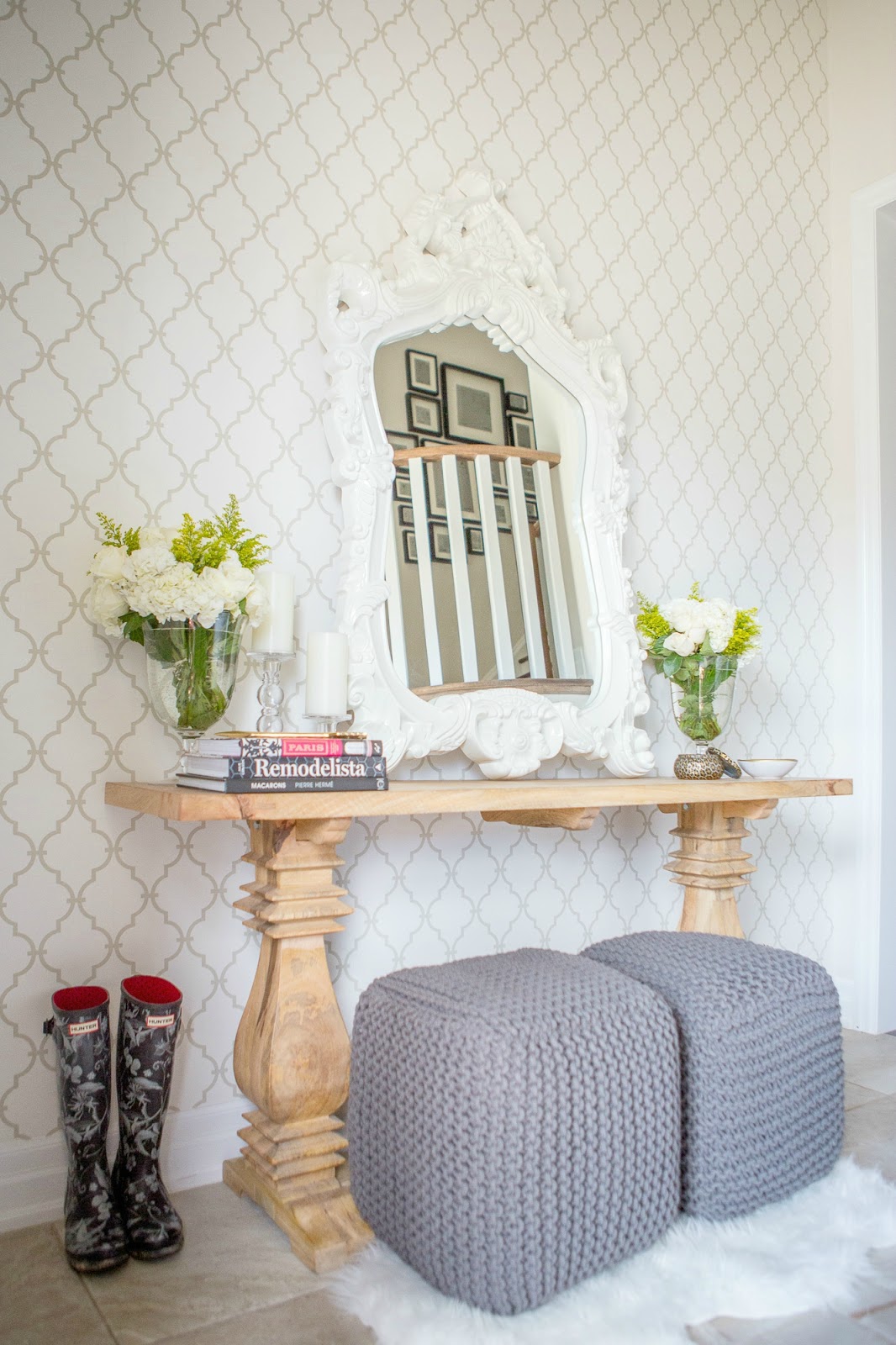 Wallpaper: c/o York Wallcoverings | Mirror: Homesense | Table: Wicker Emporium | Poufs: Homesense | Rug: Ikea | Candle: Voluspa | Dish: Target | Candles: Target | Books: Indigo | Arrow: Indigo | Chandelier | Photos by Carlos Sousa

I am SO thrilled to finally be able to say that the foyer of our home is complete! Since the day we moved in, it was one of the first areas I planned on tackling and yet it was one of the projects that continued to be bumped back time and time again. If you can't tell from the pictures, the ceiling extends up to the 2nd floor in our entrance and features an open concept to the staircase above. This definitely made the design process more tricky since we knew the decor had to appeal to now two floors instead of just one.

While I tend to gravitate towards wild prints (have you seen our powder room?), I knew I would have to veer towards something more traditional for an open space such as this. This modern trellis pattern from York Wallcoverings was the perfect solution for our space. We have used York Wallcoverings in the past and always had a great experience so we were eager to use the product again. The rolls feature Sure Strip which not only made it a cinch to install but will also remove just as easily should we change our mind. I've worked alongside hubby in the past on wallpaper projects and let me tell you – it's not pretty. This time, we had the entire accent wall (which is more like two considering it goes up to the ceiling) wrapped up in one Sunday morning. We literally looked at each other in shock at how smooth things had gone. I mean I had no glue in my hair and he hadn't fallen off the ladder before the end off the project. Success!

Overall we're thrilled with our foyer and want to thank York Wallcoverings again for their collaboration on the project. Now I have to move onto all those empty picture frames going up the stairs lol!