Guest Room Makeover Challenge with Mogo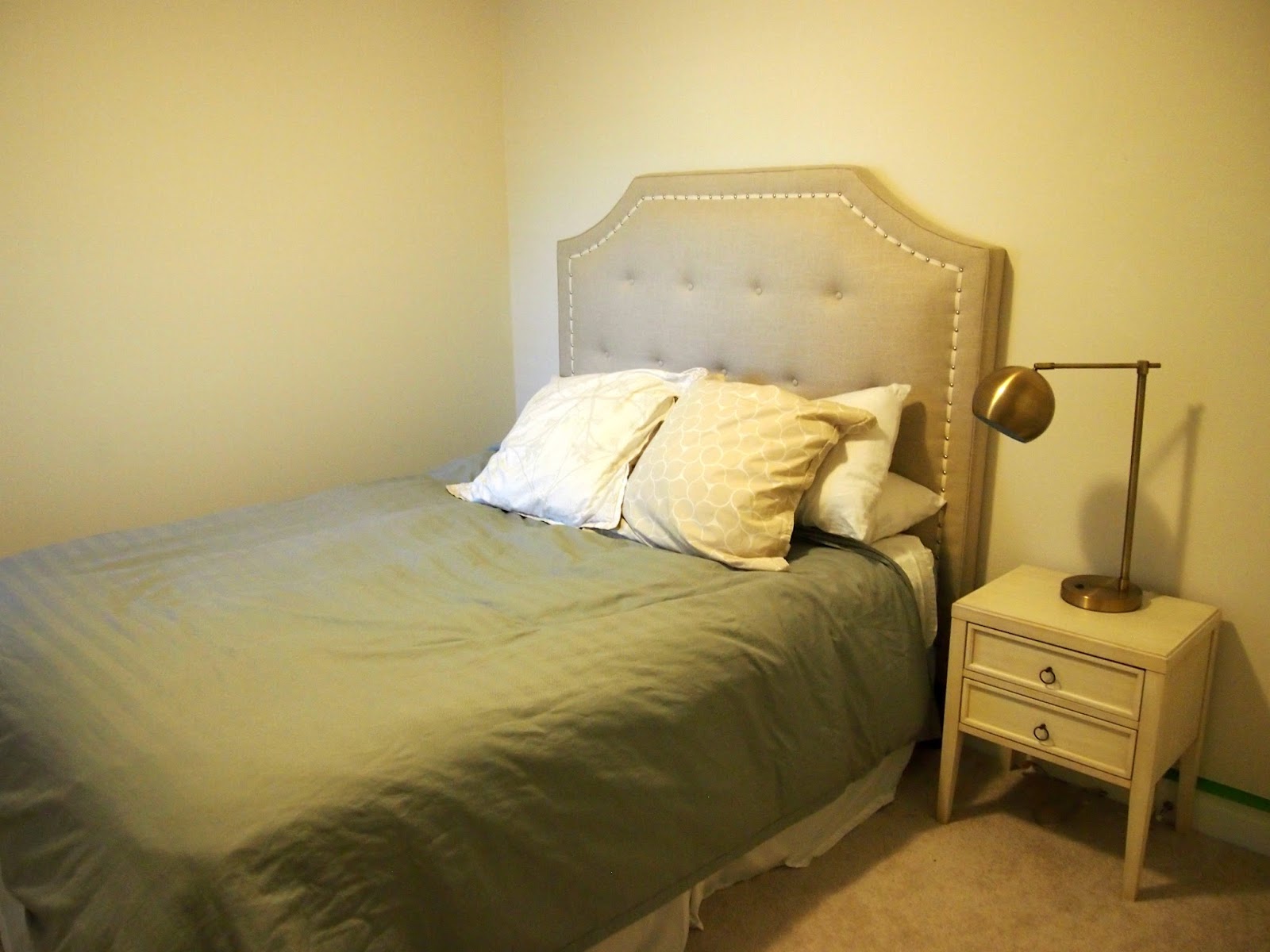 It's been almost a year since we moved into our house and now that the main floor is nearly completed, I've had my sights set on moving towards the bedrooms upstairs. I was challenged by the team at Mogo to complete this bedroom makeover project with $500 and I'm actually shocked to say I did it. With so many projects on the go for this house, setting and sticking to budgets has never been more crucial to ensuring we can keep our lives and our bank accounts in check. Scroll down to see how we turned this room from old and dull to fresh and fun.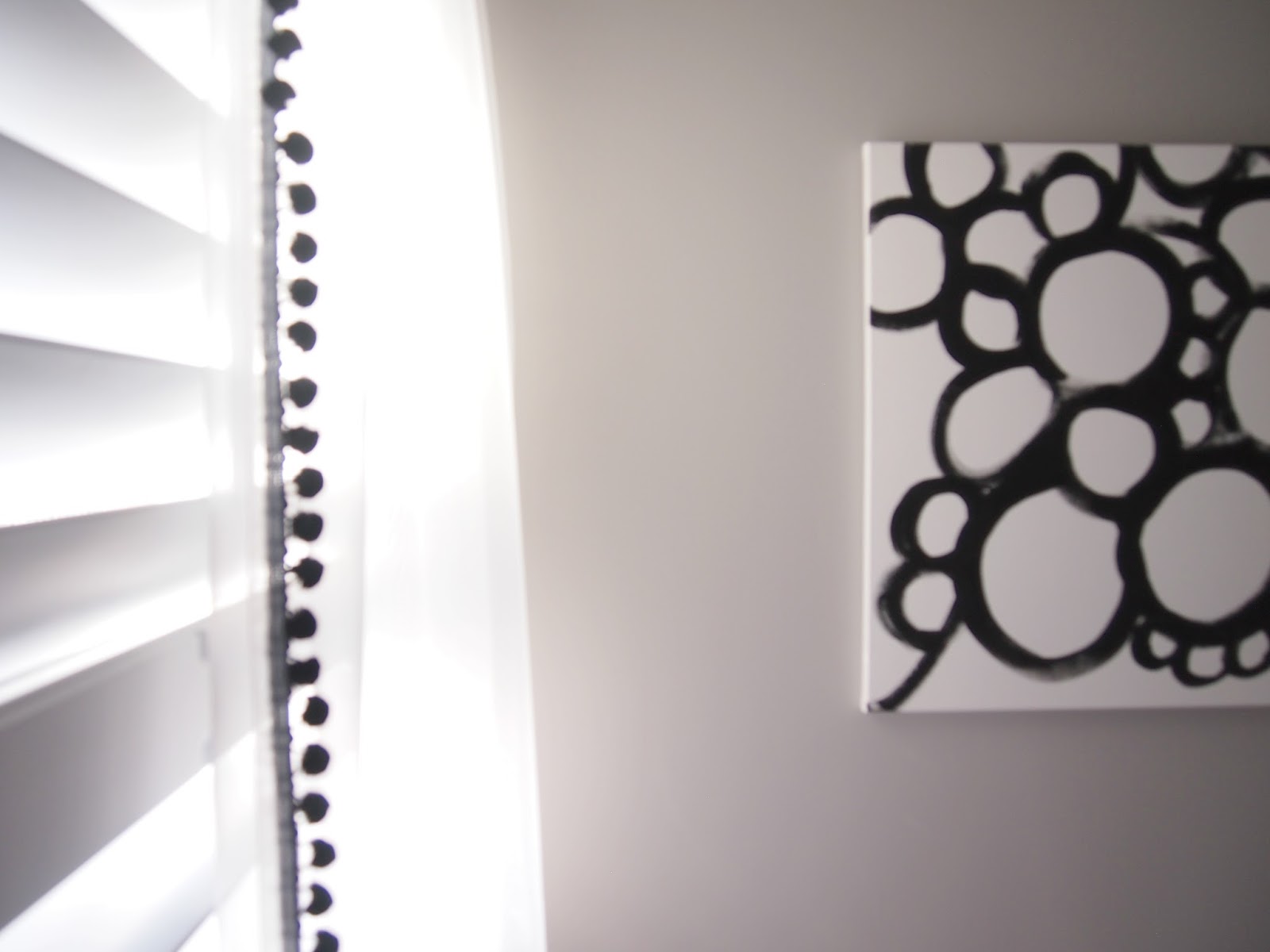 The curtain is actually a sheer panel from Ikea which we dressed up with pom pom trim for a fun, eclectic touch. If you follow along on Instagram, you likely saw the 'before' scene of this canvas before its big reveal. The piece of art I had wanted for this room was $120 a canvas and since we needed two, my dreams quickly turned into a DIY.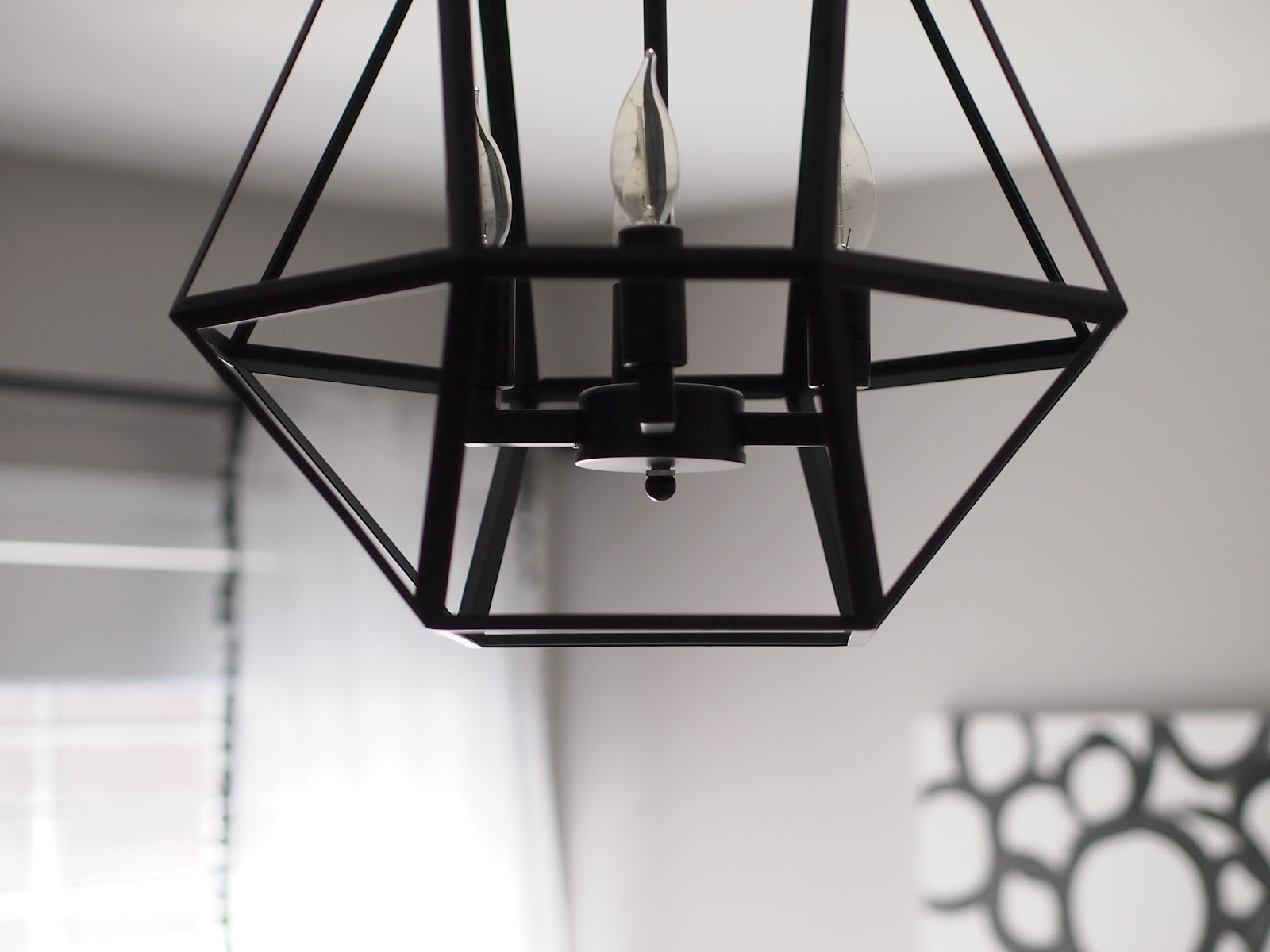 We had a major score with this light fixture at Bouclair. The chain was damaged around the top (which we wouldn't need) so we were able to get a hefty discount and repair it ourselves.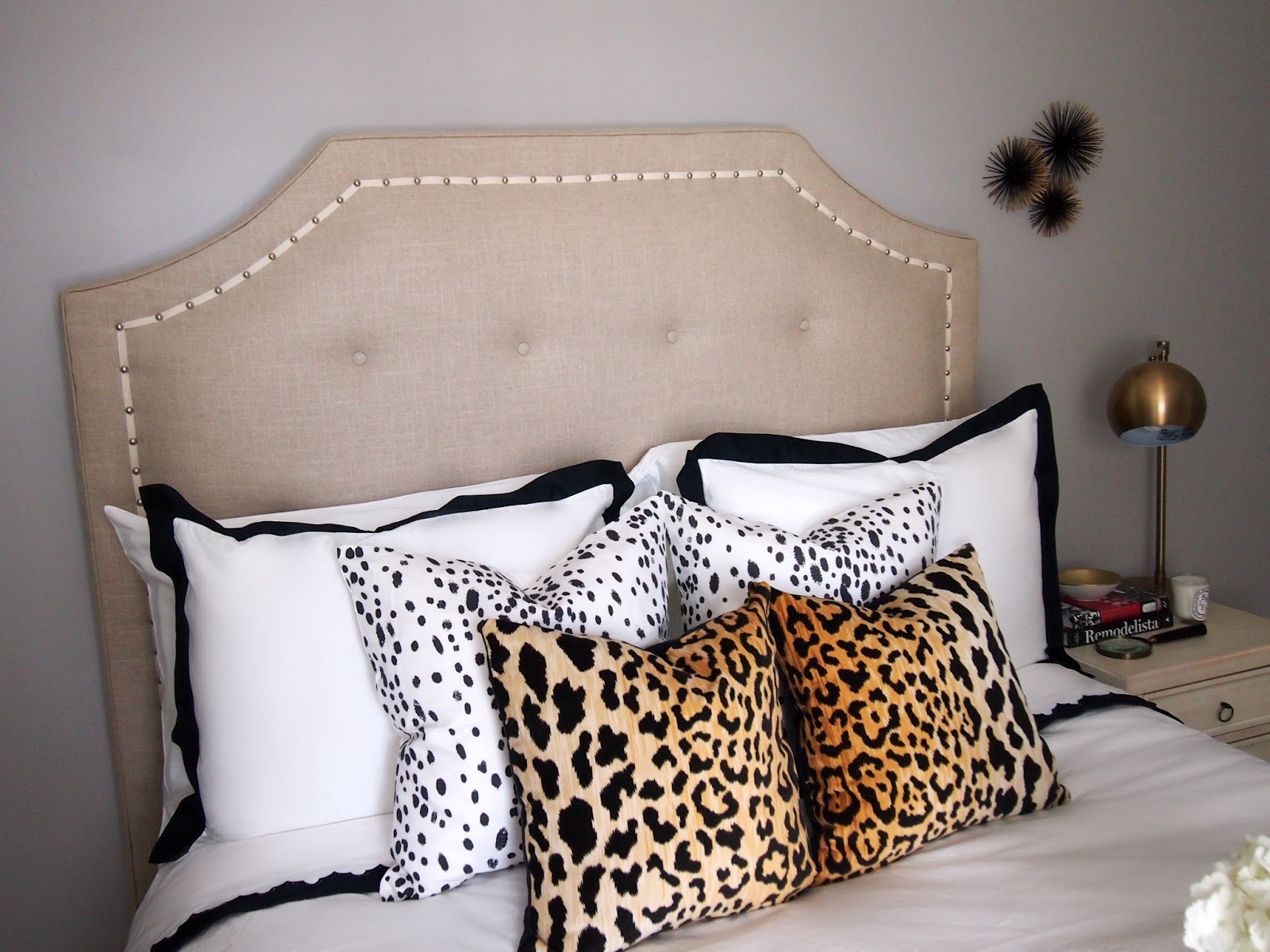 I love the pop of pattern that the pillows bring to our otherwise-neutral bed. I visited Stacie from Switch Studio (who's such a doll!) and already have some plans in store for another project. She is the queen of upholstery!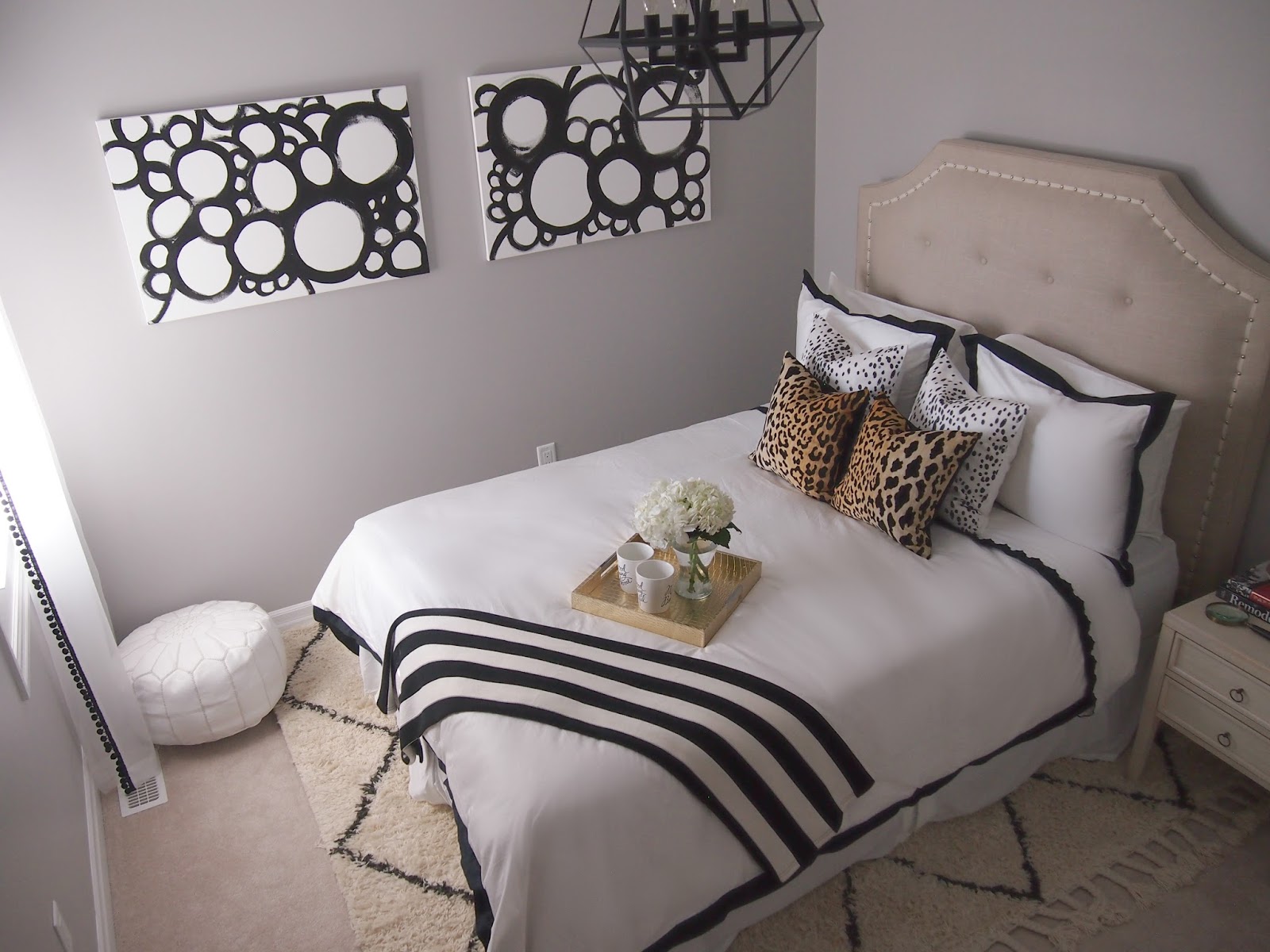 Headboard: Homesense | Table: Target | Lamp: Target | Magnifying Glass: Target {similar} | Candle: Diptyque | Rug: Rugs USA | Bedding: Crane and Canopy | Leopard Print Pillows: Switch Studio | Dalmatian Print Pillows: Aurelia | Tray: Homesense | Mugs: Chapters | Blanket: Ikea | Pouf: Ebay | Sheer Curtain: Ikea (pom pom trim not included) | Canvases: Michael's | Light: Bouclair | Pant: Behr from Home Depot | Gold Star Bursts: Target

As you can see, we had some basics to begin with: the bed, headboard, rug (from an old project), side table and a lamp. With these items in our back pocket and $500 to boot, we knew we'd have to get creative on how to stretch our dollars for this project. This included painting the canvases ourselves, sprucing up our budget curtains with decorative trim or scouring lighting stores for a great bargain. Overall, I'm beyond thrilled with the final product. Mogo's challenge to stay on budget was tricky at times but when you've got multiple projects on the go, a mortgage to pay and other things in life to save for, sticking to a plan helped us to stay on track for our long term plans. So how did we do? Here's the total damage:
Curtains: $7
Pom Pom Trim: $9
Canvases: $30 x 2 = $60
Blanket: $30
Paint: $30
Bedding: $199
Pillows: $110
Light: $99
Total: $540

Ok, ok so we overspent by $40. Technically, we failed our challenge but if it took an extra $40 to have a room that we absolutely LOVE, than I think it was worth it ;) Right?

Please note some decorative items were borrowed to complete the styling of this room ;)