Guest Post: Vickie from Adventures in Fashion
I have been blog stalking Vickie from Adventures in Fashion for a while now and am always left wanting more from her outfit posts. She has this chic way of pairing items together I would have never expected and is always such a great source of inspiration. Prepare to be amazed!
"Hello, new friends! My name is Vickie, and I write a blog called Adventures in Fashion — Nice to meet you! I've been a long-time admirer of Krystin and her incredible style, so when she asked me to pop in and keep you guys company while she's out of town, I pretty much jumped at the chance… So here we are. I guess I should start by telling you a little about me, huh? Here goes: I live in Edmonton with my lovely boyfriend and our adorable cat, Alexandra McQueen (I know, right?). Because she's on the talkative side, we kinda just call her Meow Meow now, which she seems cool with. I love anything and everything that comes from the 80s (I watch A LOT of Golden Girls reruns), tea, antiques (if you couldn't already tell, I'm pretty much an 80-year-old woman at heart) and of course,fashion… Something we all have in common!
And speaking of fashion, are you guys as excited for fall as I am? As awesome as summer is, I'm ready to turn in my sandals and breezy layers for boots, cozy knits, textured tights and deliciously deep colours… Who's with me?! One of my favourite trends for fall this year is leather everything, so I'll be wearing these H&M shorts for as long as the weather lets me (it snows here in Edmonton — a lot). Another thing I'm into? Relaxed, slouchy sweaters paired with bold, statement necklaces… Oh yeah. Throw in a Pumpkin Spice Latte and you've got yourself a party, am I right?
But enough from me, what are you guys looking forward to
wearing
this fall? I'd love to hear more about you and what you're into this season in the comments! Thanks for letting me ramble on while our homegirl Krystin is away, it was cool hanging out with you guys today… Bye for now! xx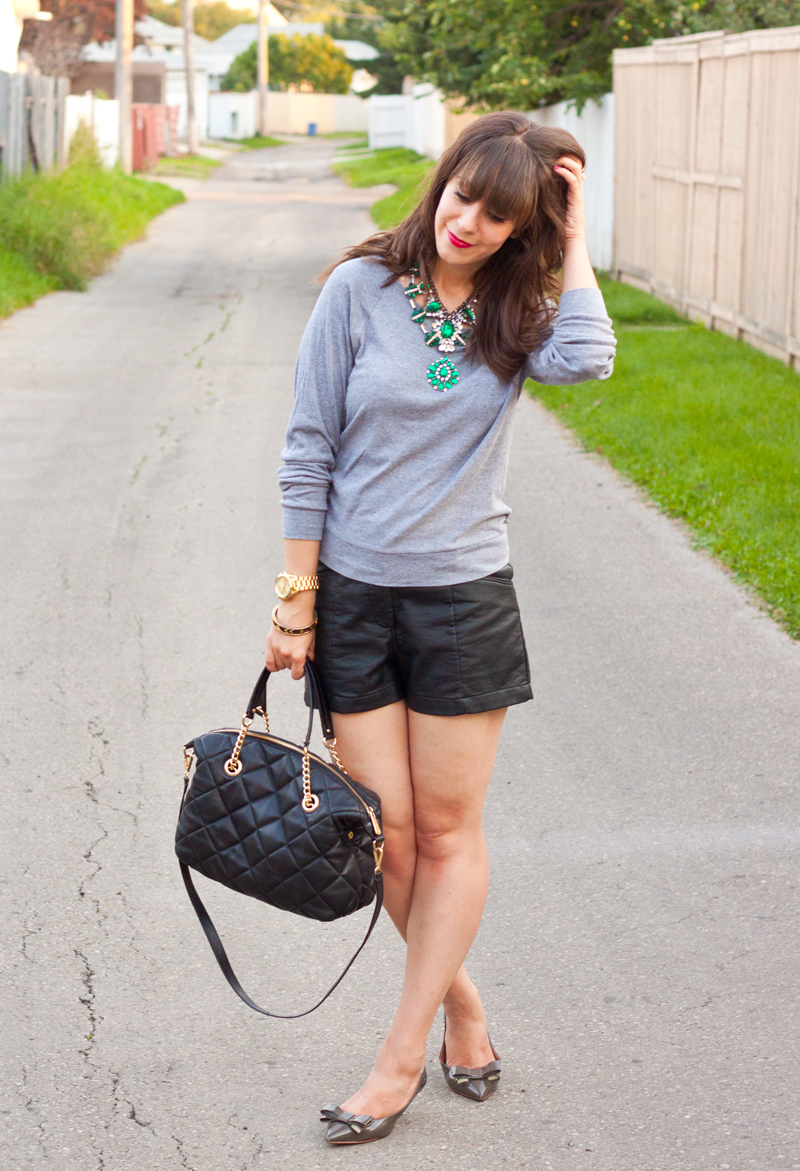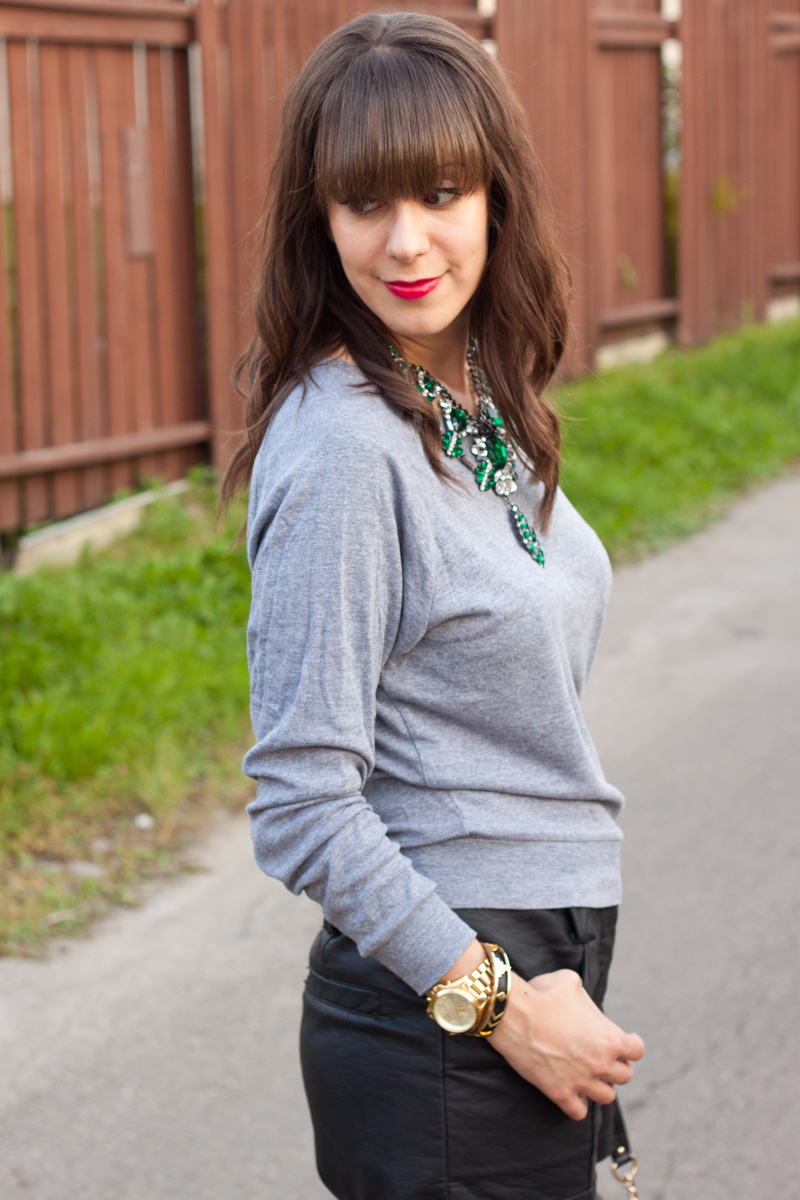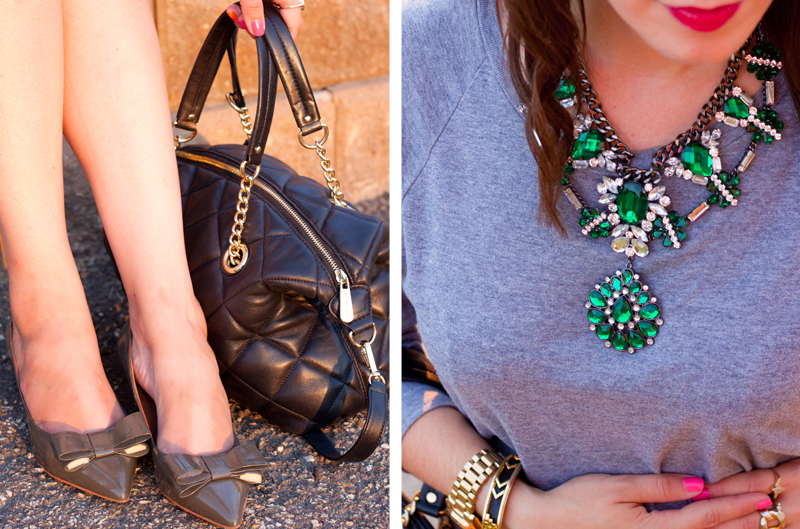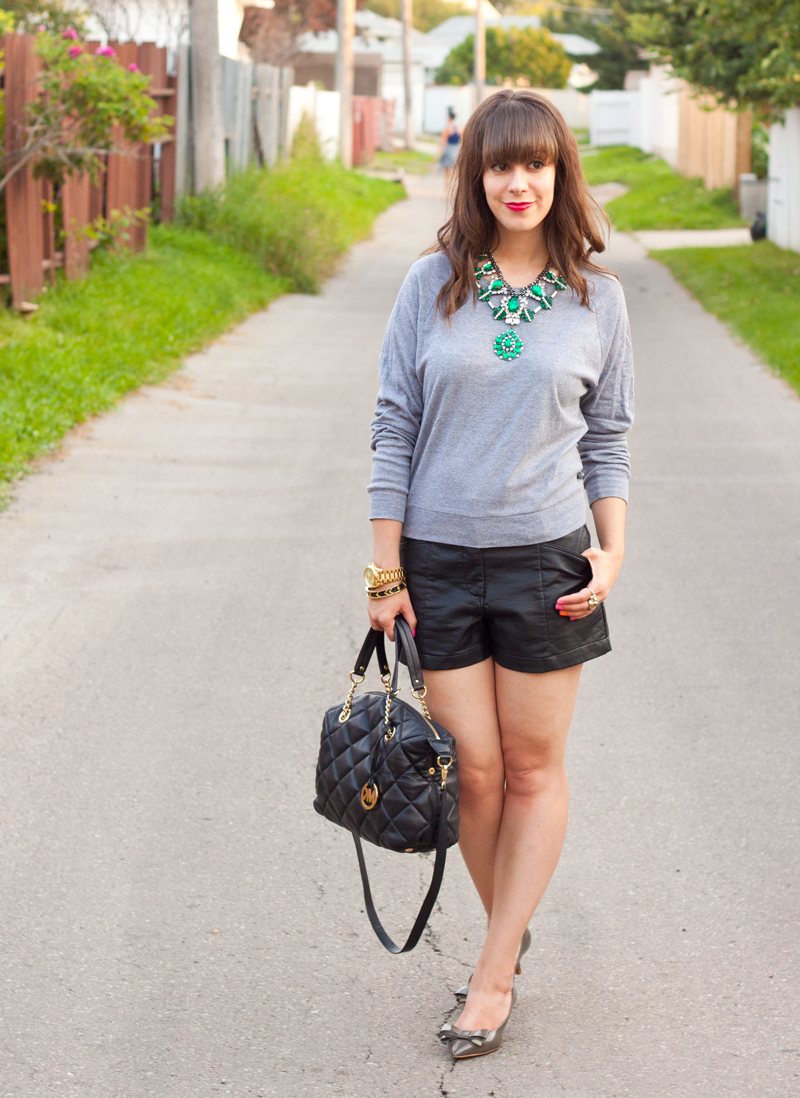 sweater- TNA; faux leather shorts- H&M; shoes- Zara; quilted bag- Michael Kors; necklace- Zara; bracelet- House of Harlow;
watch- House of Harlow